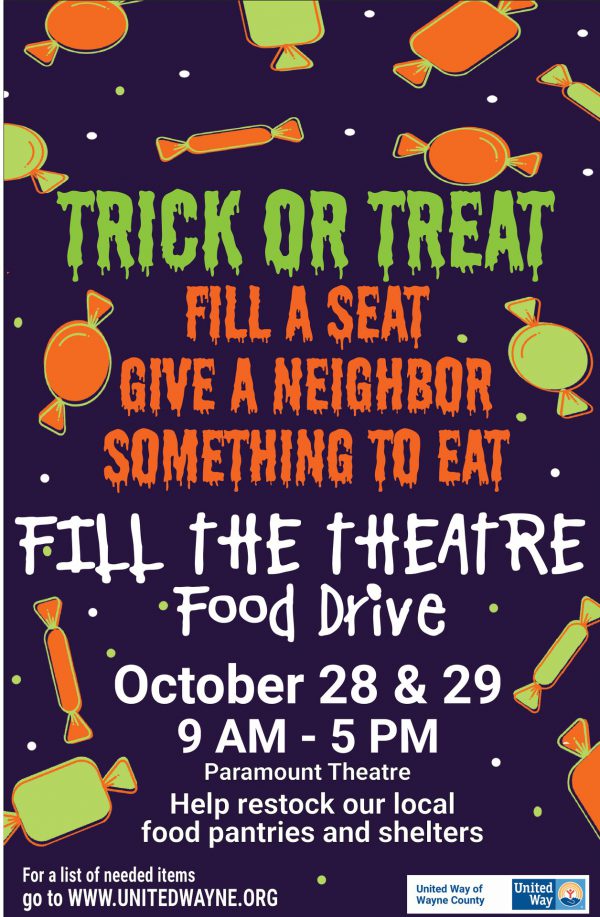 United Way of Wayne County is holding a food drive "Fill the Theatre" on October 28th and 29th. Start filling your bags or boxes to fill the seats of the Paramount Theatre in Downtown Goldsboro with non-perishable food and personal hygiene items. Poverty impacts over 23,000 food insecure people in Wayne County which includes 7,500 hungry kids.
Please wear your mask when entering the Paramount Theatre.
Fill the Theatre is a benefit for food pantries and shelters such as Salvation Army, Society of St. Vincent de Paul, Make a Difference, Student Pantries at WCC & UMO and Wayne County's Domestic Violence Shelter. For suggestions on what is needed, a list can be found on the United Way of Wayne County's website www.unitedwayne.org or follow them on Facebook.
Don't let hunger haunt Wayne County. We are collecting nonperishable food to help restock our local food pantries and shelters. Wear a mask (spooky or sweet) to participate in our #spookyselfie contest. Donors can drop off between 9 AM -5 PM both days. Let's #boohunger!
Click here to find out more about United Way of Wayne County (www.unitedwayne.org)