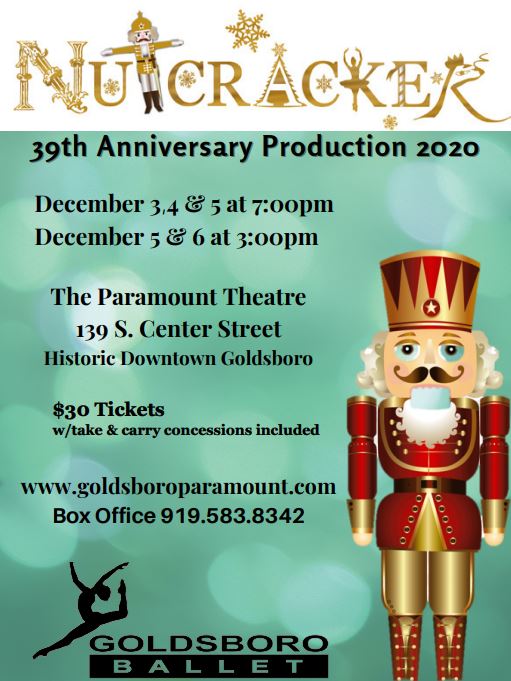 Treat your loved ones to Goldsboro Ballet's famous Nutcracker at the Paramount Theatre. Praised by audiences as 'original and exciting,' this marvelously imagined production, created by Goldsboro Ballet's Founding Artistic Director Peggy Wingate and further adapted by Assistant Director Mary Franklin, features over 75 dancers, gigantic sets, a snowfall every performance, and – the magical sound of the season – Tchaikovsky's beloved score. Get dressed to the nines, or come as you are, but reach the very heart of the holidays.
Goldsboro Ballet can proudly lay claim to Wayne County's first and most recognized and celebrated production of Nutcracker, now in its 34th season. The brilliant result of close collaboration between Goldsboro Ballet founding Artistic Director and choreographer Peggy Wingate and her daughter, Assistant Director Mary Franklin premiered to local acclaim in December 2001. The Directors delved deeply into the original story, infusing the ballet with a drama and strength that fully complements Tchaikovsky's rich score, while creating a kaleidoscope of roles for all levels of the Company.
Nutcracker is our great repertory ballet. With multiple performances each season, Baby Mice can dream of one day being Party girls and Chinese dancers, Snowflakes, and Flowers and, ultimately, the role of Clara, in which Company women make their debut as ballerina. As students and Company grow up through Nutcracker, so the ballet grows with us, constantly renewing itself and offering challenges and insights about ballet, and life, to the next generation.
Tickets include grab-and-go concessions and will be permitted in the auditorium. Masks are required at the Paramount Theatre.
Click here to find out more about Goldsboro Civic Ballet (www.goldsboroballet.com)