Audience Services and Box Office Policies
Theatre Etiquette – Due to the intimate nature of performances, almost any noise may be disruptive for other patrons, as well as the performers on stage. Out of courtesy, we insist that all electronic devices (cell phones, pagers, watch alarms, etc.) be turned off.
Photography & Recording – Unless otherwise stated, photography and recording devices of any kind are prohibited during events.
Food and Beverages – Food and beverages are not allowed in the auditorium with the exception of Paramount Movie Nights.
Smoking – The Paramount Theatre and all City of Goldsboro facilities are entirely smoke-free.
Arrival Time – Plan to arrive at least 15-20 minutes before the scheduled performance time to allow adequate time for seating. The auditorium normally opens for seating approximately 30 minutes prior to curtain for reserved seating events and 45 minutes to an hour prior to curtain for general admission events. Latecomer Seating – Latecomers will be seated at the discretion of the Lobby Ushers at the first appropriate break that allows for the least disruption to the performers and the audience. Ushers may choose to place latecomers in different seating than listed on the ticket to ensure that there is little to no disruption. Please notify the Box Office at (919) 583-8432 if you know you will be late to a performance so staff can be prepared.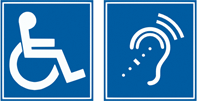 Accessibility – Please notify our staff with any special requests. Wheelchair accessible seating is available on both floors of the auditorium and there elevator access is available to the balcony. Assisted listening devices are available upon request. We make every effort to provide effective communication to all patrons and request at least a two week advance notice to request ASL interpreters or captioning services. Lost and Found – Please notify any Usher immediately upon discovery of lost or found articles. After a performance, you may call the Box Office at (919) 583-8432.

Hours – The Box Office is open Monday thru Friday 9am–Noon and 1pm–5pm. The Box Office opens approximately an hour before curtain for weekend events.
Purchasing – Tickets available through the Paramount Theatre Box Office Service may be purchased in-person inside the theatre lobby and over the phone at (919) 583-8432 during our Box Office Hours. Tickets may also be purchased securely online 24/7 at www.GoldsboroParamount.com.
Payment – The Box Office accepts cash, check, VISA, MasterCard, Discover and American Express. Tickets may not be reserved without payment.
Sold Out Events – When an event is sold out, the Box Office does not keep a waiting list. Sold out events may have no-shows the evening of the performance and patrons are welcome to sell unneeded tickets for up to the face value of the ticket. By law, resellers cannot receive funds greater than the face value of the ticket including tax/fees (NCGS § 14‑344).
Refunds – It is the Paramount Theatre's policy that all sales are final and there are no refunds for purchased tickets. In the case of an event cancellation, refunds may be issued; however, the Box Office will make every effort to exchange tickets to another show time of the same event if available.
Shipping – Tickets ordered over the phone may be mailed directly to the customer for a $1.00 shipping & handling fee per order.
Exchanges – Tickets may be exchanged, in advance, for different seats or for a different show time of the same event. No exchanges may be processed for a different event. Exchanges must be processed before the show time listed on the original ticket. The Box Office staff has the right to deny exchanges. Please note that upgrade fees may apply to exchanges.
Children – Children under the age of four that do not require a seat and are to able sit on a parent's or guardian's lap do not require a ticket; however, if a seat is used by someone of any age, a ticket for that seat must be purchased.
Admissions Tax – Effective January 1, 2014, N.C. Gen. Stat. § 105-164.4(a)(10) imposes a privilege tax on the retailer's net taxable sales or gross receipts to admission charges to an entertainment activity. All advertised ticket prices for events sold through the Paramount Theatre Box Office Service include 6.75% Admissions Tax when applicable.
Online Ticket Fees – Tickets purchased online through the Box Office are subject to an online convenience fee or "Ticket Operations Fee." This fee ranges from $0.75 to $7.50 per ticket depending on the ticket price. This fee is automatically added to online orders. Tickets purchased in-person at the Box Office or over the phone are not subject to this fee.