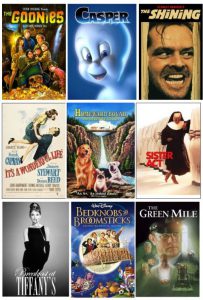 Save 20% and get free popcorn at the movies!
Purchase a package to all 9 Paramount Movie Nights, and get free popcorn when you come to the movies!
A Paramount movie night is a unique experience and is very different than visiting your regular movie theatre. It's wonderful to see younger audiences watching these films on the big screen for the first time or others coming to relive their memories associated with each film. Popcorn, candy, and drinks are available for purchase. Come enjoy a movie at the Paramount Theatre!
General Admission Tickets for Movie Nights are $5/each
FREE for Children 12 & Under with a paying adult.
August 2020
October 2020
December 2020
January 2021
February 2021
April 2021
James and the Giant Peach (February 16, 2020)
Space Jam (January 28, 2020)
It's a Wonderful Life (December 23, 2019)
The Haunted Mansion (October 29, 2019)
Steel Magnolias (October 8, 2019)
Angels in the Outfield (September 29, 2019)
Chitty Chitty Bang Bang (March 24, 2019)
The Color Purple (January 20, 2019)
White Christmas (December 20, 2018)
It's a Wonderful Life (December 18, 2018)
Field of Dreams (August 28, 2018)
The Wizard of Oz (April 8, 2018)
Remember the Titans (March 27, 2018)
Casablanca (January 28, 2018)
It's a Wonderful Life (December 19, 2017)
Beetlejuice (October 29, 2017)
Dirty Dancing (September 19, 2017)
Gandhi (January 22, 2017)
It's a Wonderful Life (December 22, 2016)
Ferris Bueller's Day Off (November 11, 2016)
E.T. (October 30, 2016)
Gone with the Wind (September 25, 2016)
Get on Up (April 19, 2016)
Guess Who's Coming to Dinner (March 22, 2016)
The Good, The Bad, and the Ugly (February 2, 2016)
Selma (January 18, 2016)
It's a Wonderful Life (December 22, 2015)
Jaws (November 10, 2015)
Ghostbusters (October 30, 2015)
Clue: The Movie (October 29, 2015)
Back to the Future Parts I, II, II – 30th Anniversary Movie Marathon (September 22, 2015)
Monty Python and the Holy Grail (April 28, 2015)
Rio Lobo (March 31, 2015)
12 Years a Slave (February 3, 2015)
It's a Wonderful Life (December 22, 2014)
Hocus Pocus (November 2, 2014)
Indiana Jones and the Raiders of the Lost Ark (September 23, 2014)
The Princess Bride (February 8, 2014)
The Seven Year Itch (January 21, 2014)
Miracle on 34th Street (November 19, 2013)
Young Frankenstein (October 31, 2013)
Cloudy with a Chance of Meatballs (September 24, 2013)
African Queen (August 27, 2013)
Groundhog Day (February 1, 2013)
It's a Wonderful Life (December 18, 2012)
Ghostbusters (October 25, 2012)
True Grit – 1969 (August 21, 2012)